(Left) Colosseum
Flavian Amphitheatre is the most famous monument of Ancient Rome.
Built to replace emperor Nero's unpopular villa, it was nick named the Colosseum because of the colossus of Nero nearby.
The Colossuem was an end product of Roman's political system, where the citizen expected to be entertained. Maintenance of the Colesseum was extremely costly, with major repair and restoration works performed throughout. The arena continued to be used for contests well into the 6th century.
Most popular among the entertainments were the gladiatorial shows and animal hunts, earlier design even allowed the arena to be flooded to stage naval battle.
There are many products for any time at any place. What matters to you is a product that meet your expectation.
| | | |
| --- | --- | --- |
| | What we provide... | What it is... |
| | Web-based Application Packages | Easy-to-use software that are easy-to-use and accessible from any location any time. |
| | E-Mail Server | Supporting POP3, SMTP and IMAP protocols |
| | Firewall | Protect your network against unwanted intrusion from the Internet |
| | Proxy Server | Centralizes Internet access control and speed up concurrent access by caching commonly visited web pages |
| | Anti-Spyware | Destroys spyware and adware it detected on your system |
| | Anti-Virus | Free Antivirus for Microsoft Windows 98/Me/2000/XP/2003. It provides a graphical user interface to the Clam AntiVirus engine. |
| | Office Productivity Suite | Includes word processor and spreadsheet; compatible with Microsoft Excel and Word file formats |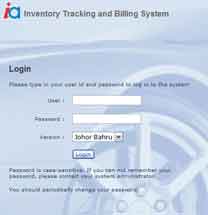 Login page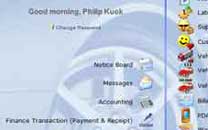 Modules access page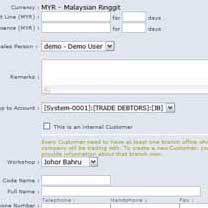 Data entry page
How many times can your organizations allow an inferior products to come in its door? Even the most basic of our easy-to-use system packages give you these features:
Free Module Update
Automated Backup
User Access Control
Multi-User Concurrent Usage
World Wide Accessibility
24/7 Availability
Free Domain
Business Friendly
Our technology allows you to harness the power of Internet for your business. Standardised browser interface minimises learning curve, comprehensive analysis and reports are just a few clicks away. Best of all, you can setup as many or as few users as needed. The technology is scalable, flexible, secured.
Non-lockdown Packages
We believe each of our customers is unique and one size doesn't fit all. That's why we tailor-made our software into modules that can be easily mixed and matched.

Customisable *


We can change the functioning of any modules to comfortably meet your need, you may even opt for our made-to-order modules, such as allowing access from PDA our UMPC.
Free Module Update
The best technology evolves to adapt to changing business environment. Rest assure that you will be instantly benefited from additional features and enhancements to your chosen modules.
Not only is our compartmentized web-based software scalabled to your need, so is our financing options: you could purchase, lease, or lease-to-own the software and server. Our Access-Anytime-Anywhere combines functionality and security to give you worry-free.
For further information, please contact our account representative.

TOP
Mail Server * Note

Mercury MTS is a free, standards-based mail server solution, providing comprehensive, fast server support for all major Internet e-mail protocols. It is supplied in two versions, one hosted on Windows systems, the other running as a set of NLMs on Novell NetWare file servers.

TOP
Firewall * Note

IPCop Firewall is a Linux firewall distribution geared towards home and SOHO (Small Office/Home Office) users. The IPCop interface is very user-friendly and task-based. IPCop offers the critical functionality of an expensive network appliance using stock, or even obsolete, hardware and OpenSource Software.
All this functionality can be managed from a simple to use web interface, even updates and patches can be installed using a web browser.
Remember IPCop works with most home networks and small office networks, dial up modems, cable modems, ADSL, Leased lines and ISDN. It also lets several PCs share connections to the internet. If you have an always on connection to can even use IPCop to protect your web and email servers. IPCop also has remote management meaning you can securely update and reconfigure your IPCop firewall from anywhere with an internet connection!

TOP
Proxy Server * Note

FreeProxy is a proxy program which enables a single connection to the internet to be shared by other computers on a network. Looked at another way, FreeProxy is a mechanism to provide controlled access to the internet or intranet. Controls now include advanced security methods, user name and password verification and IP filtering.
Typically, one computer connects to the internet service provider and the other computers in the local network "point" to the connected computer running the FreeProxy program. No other software is required in the client systems.

TOP
Anti-Spyware * Note

Spybot - Search & Destroy can detect and remove spyware of different kinds from your computer. Spyware is a relatively new kind of threat that common anti-virus applications do not yet cover. If you see new toolbars in your Internet Explorer that you didn't intentionally install, if your browser crashes, or if you browser start page has changed without your knowing, you most probably have spyware. But even if you don't see anything, you may be infected, because more and more spyware is emerging that is silently tracking your surfing behaviour to create a marketing profile of you that will be sold to advertisement companies. Spybot-S&D is free, so there's no harm in trying to see if something snooped into your computer, too :)

TOP
Anti-Virus * Note

ClamWin is a Free Antivirus for Microsoft Windows 98/Me/2000/XP/2003. It provides a graphical user interface to the Clam AntiVirus engine.
ClamWin Free Antivirus comes with an easy installer and open source code. You may download and use it absolutely free of charge. It features:
High detection rates for viruses and spyware;
Scanning Scheduler;
Automatic downloads of Virus Database updates. ClamAV team regularly updates Virus Databases to include a new virus/variant immediately after it appears;
Standalone Virus Scanner;
Right-Click Menu Integration to Microsoft Windows Explorer;
Addin to Microsoft Outlook to remove virus-infected attachments automatically.
Please note that ClamWin Free Antivirus does not include an on-access real-time scanner, that is, you need to manually scan a file in order to detect a virus or spyware.

TOP
Office Productivity * Note

OpenOffice.org is a multi-platform office productivity suite. It includes the key desktop applications, such as a word processor, spreadsheet, presentation manager, and drawing program, with a user interface and feature set similar to other office suites. Sophisticated and flexible, OpenOffice.org also works transparently with a variety of file formats, including those of Microsoft Office, and the vendor-neutral OpenDocument standard from OASIS.
Available in over 65 supported languages with more being constantly added by the community, OpenOffice.org runs stably and natively on Solaris, Linux (including PPC Linux), Windows, Mac OS X (X11), and numerous other platforms. Our porting page lists the platforms (ports) that OpenOffice.org can run on.

TOP