(Left) Angkor Wat

The epitome of Khmer architecture, Angkor Wat was the greatest Angkor temple built by Suryavarman II in the 12 century.

At its height, Angkor Thom (the city of Angkor) had over a million residents. It was, however, without adequate defensive structure, and depended solely on its army for protection.

When the might of Angkor waned, the Siamese (now Thailand) invaded and took the city in the 15 century. The city was completely abandoned within a year, to be reclaimed by the jungle. Its people dispersed into the surrounding area.
Misguided dependency on a single solution guarantees its crumble. A good IT solution takes into consideration the defensive frameworks, network infrastructure, servers capacity, and finally, the solution itself.
| | | |
| --- | --- | --- |
| | What we provide... | What it is... |
| | Information Architecture | The underlying framework of a solution derived from client's existing business process, may entail integration with legacy hardware and/or software |
| | Purpose-built Software | Customization of an existing program or complete software development from the ground up, for the purpose of fulfilling one or more specific needs |
| | Advanced Networking | Linking multiple branches in geographically different area with or without wires |
| | Fault-Tolerant Server | Seperate functionality of a server to provide optimal performance and reliability by load-balancing and clusterizing |
| | High Availability Data Storage | Reliably and speedily obtained data that are automatically backup or replicated locally or regionally |
| | Rich media Presentation | Packaging of information that are delivered digitally from web site, corporate profile CD-ROM, press kit, digital name card |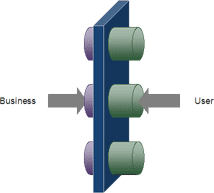 For the sake of simplicity, if we can consider the audience of your business to comprise of your suppliers, your staffs, you customers, all of whom we will generically refer to as "users", then it can be said that there are two sides to a viable business: the business (purple) and the users (green). Between the two is your process, your facade, the interaction pane, or -- in an increasing computerized world -- your computer system (blue).
Good Architecture
A good software architecture is the foundation of a software that works for you, with a clear structure and componentized functionality that meet your immediate need, while retaining flexibility to grow with you.
With multiple point-of-entry, multiple delivery platforms (PDAs, desktop PCs, notebook PCs, remote PCs), a smooth interface that allows your audience and your business to interact effectively.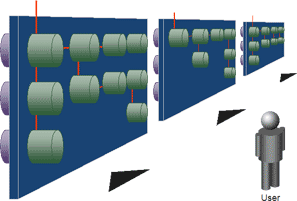 Poor Architecture
In comparison, a defective software is one that has illogical layout, confusing interaction points, intertwined code with insufficient room to grow.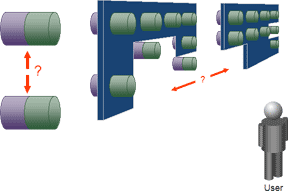 TOP
We don't just build software that track your inventory, products, transactions with customers, suppliers, manufacturing resources; we built them for a purpose: to suit your day-to-day operation, not the other way around.
Better still, since the software is built to your specification, its flow will largely mirror an existing operation which your users are already familiar with, thus minimizing your training cost.
All your chosen delivery platforms, be it desktop PCs, PDAs or notebook PCs from your field office, need to meet and communicate on common ground. That common ground is your network. Depending on your requirement, you may need to optimize your network for mobility, speed, security, or somewhere in between. We can design a scalable network infrastructure that best meet your need.

All roads lead to Rome, but what good are the roads if Rome is not there? A fault-tolerant server remains up and running until the faulty parts can be replaced, ensuring that no matter where your users are connecting from, whichever road they take, your server will always be there.

We offer full range of server products from HP/Compaq; as well as custom cost-effective server solution from Intel and Gigabyte.

The most fragile components in a computer system is its hard drives. Hot standby redundant array of independent disks (RAID) helps to ensure that your data survive even when the hard drives didn't.

Both SCSI- and IDE-based RAID solutions are available from us.

TOP
The use of multimedia is about effective communication. We can help you build a simple web presence, a full transactional ebusiness system, online (Internet dynamic HTML or Flash-based) or offline (CD-ROM based) corporate presentation for share holders.
Take something as simple as this web page you are currently reading. How long does it take to for this page to load? Does it serve the purpose it was designed for? Most users are still connecting to the internet at 56kbps or less. If a page takes longer than 10 seconds to load, it is ineffective. If it takes more than 30 seconds, it is practically useless.
If you already have a web site, you may want to try our content streamlining process, where we can dramatically speed up your users access to your site.

TOP